Happy Together Season 3 features actor Kim Jae Won, Kim Seung Soo and HIGHLIGHT's Lee Ki Kwang for explanation time...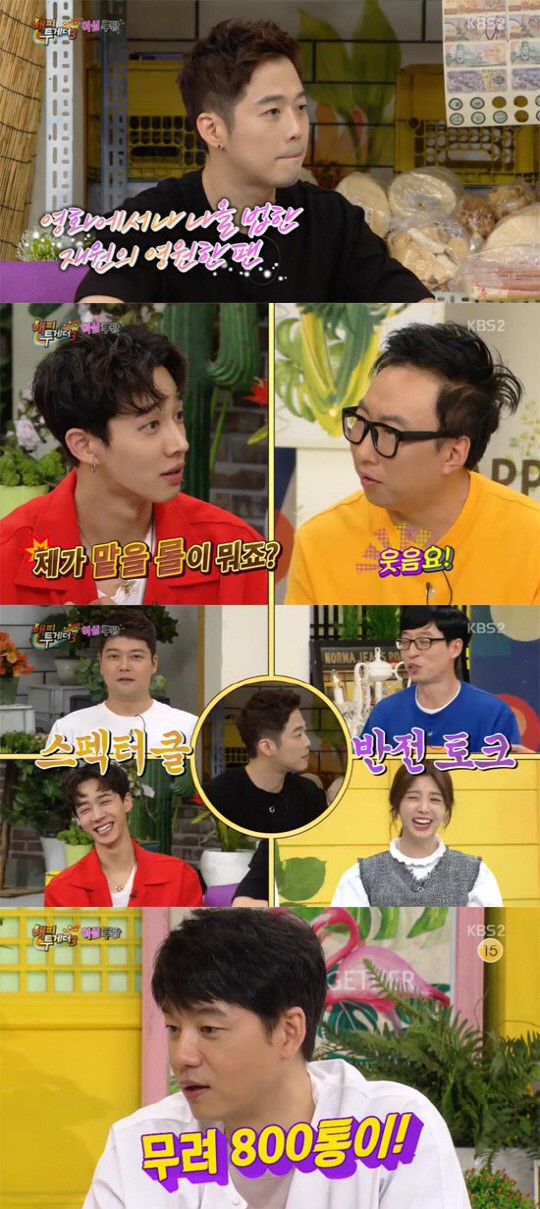 Kim Jae Won explained that he was in the program 3 years ago and how did his 'killer smile' came to the limelight. He laughed a lot in the past. Soon he discovered the viewers wanted something else rather than just the killer smile, so he escaped from the public. In fact there was a sad story behind that killer smile. It seems like a gorgeous appearance but he was stressed out.
He struggled with his agency, drank alcohol
and smoked too.
When it comes to fan meetings, Kim Jae Won mentioned Japanese fans aged from 92-100 turned up and he expressed his gratitude towards them. He reckoned he should remember them even if they have lost their memory. From there, he started to repent and reflect a lot.
Lee Ki Kwang was ranked first in Asian magazines in foreign magazine last year. Yoo Jae Suk testified that "Lee Dong Wook came in ninth place and Park Bo Gum was in the 19th spot." Ki Kwang said, "Their positions were below me." Kim Seung Soo commented that Ki Kwang has a nice face and a masculine charm. Unlike the cute images, Ki Kwang who performed a lot on stage, said, "I was not in a bad shape at the time, but I was too lazy to look at myself." In the past, he had received a self-imposed order from his agency based on the incident of "Fisherman's Mystery".
As for Kim Seung Soo, he is always branded as a veteran actor. His roles include single man to father with a daughter, that many people have mistaken him as a married man. At some meetings, his acquaintances starting coming up to him asking him to introduce if he has some good friends. Somehow the atmosphere was a little strange. He admitted due to his age, it is not easy to find a partner to settle down. It came to light and rumours when A-Pink's Son Na Eun was his ideal type. He knows he's in a hurry to meet the right woman to settle down.