The King of Trot, veteran singer Tae Jin Ah is not missing out as well for some selfie photos with the hot popular trend rookie idol group Wanna One members.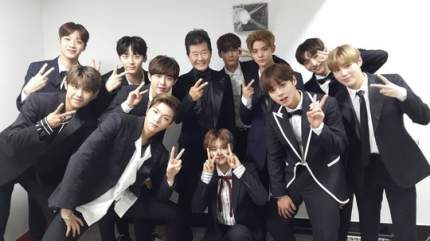 Wanna One members with centre- Tae Jin Ah
The '2017 1st SORIBADA BEST K-MUSIC AWARDS was held at the Jamsil Student Gymnasium in Songpa-gu, Seoul on September 20th.
After the awards ceremony, photos were taken of Tae Jin Ah together with Wanna One members. The members were all posing V-signs with their fingers and cute hand heart which conveys a nice photo and the warm chemistry. Tae Jin Ah is probably old enough to be their father. Even most of the Wanna One members do know Tae Jin Ah's son, Eru's hit song- Black Glasses.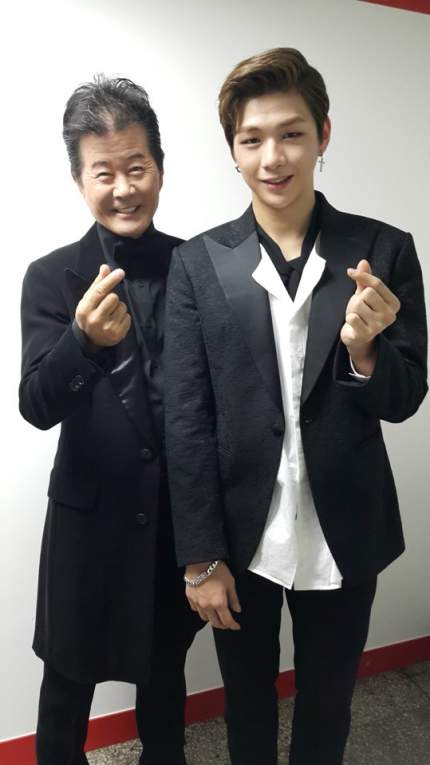 The veteran singer didn't hesitate to snap a photo with the centre of the group- Kang Daniel. Not to be confused with the centre-leader as the leader of Wanna One is actually Kang Daniel's same label mate Yoon Ji Sung.
Tae Jin Ah took back the Shin Han Ryu Trot Singer Award. The veteran singer is much loved overseas as he was also awarded the Global Achievement Award.
Wanna One made their first debut in the music industry through Produce 101: Season 2 via Mnet Boy Group Survival Program.
The guys have sweep home the Shin Han Ryu Super Rookie Award and the Shin Han Ryu Rising Star Award.